10 Tips & Tricks to build your Photoshoot Studio at Home
As a photographer, everyone wants their space. You can't shoot at any random place in any random setting. Whether you shoot products or portraits, a studio is the number one requirement. 
Renting a luxury studio can cost you an arm and a leg, especially if you're a beginner. While starting with your career, you'd want to cut on costs as much as you can. That's where the idea of a home photoshoot studio comes in. 
What can be better than working from the comforts of your home? There's nothing like having complete control over your workspace. This article compiles various tips and tricks on how to create a fully functional photoshop studio at home.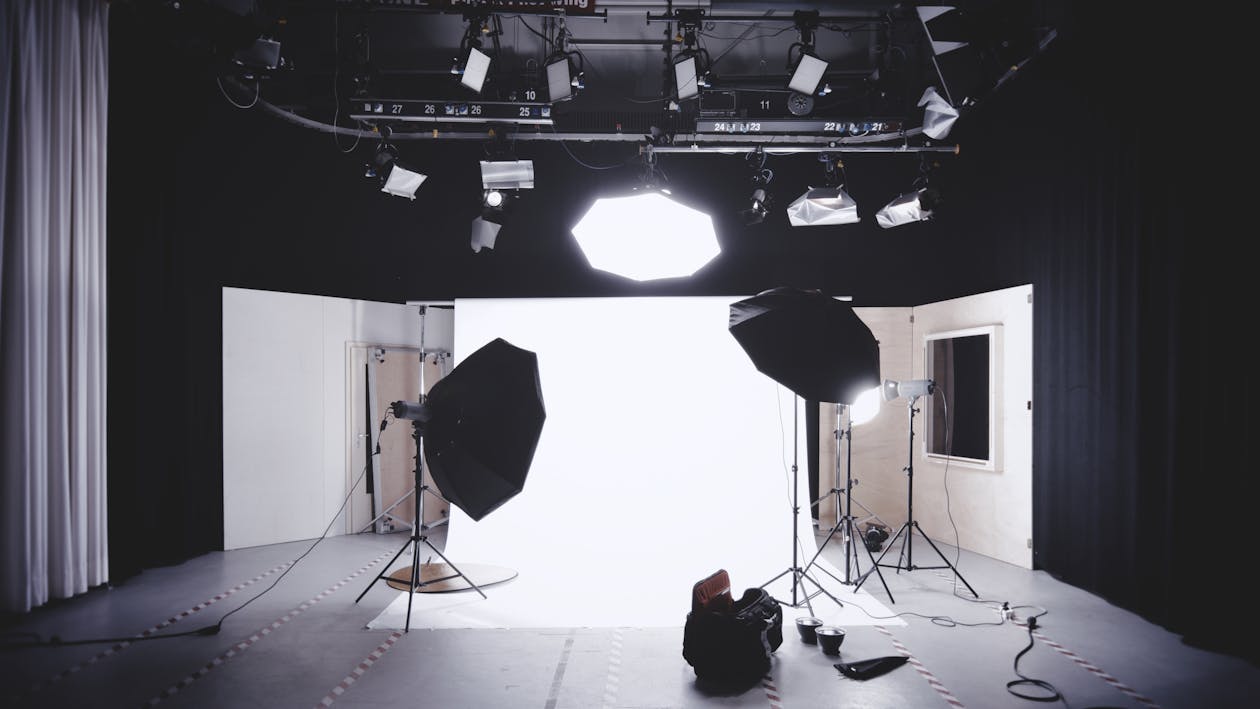 Space Selection 
For your home photoshoot, you'd need a clutter-free environment. Based on what kind of photographer you are, your shooting needs might vary. Flash photographers can even operate in dimly lit areas like a basement. For usual product or portrait photography, a richly illuminated area is a requirement. 
You can choose any empty room in your house. You can also make a spot in case you have a big living room. If your home features a big garden area or porch, you're good to go with a shade over your head. Still, it would be best if you know about safeguarding photoshoot equipment from weather like heavy downpours.
For eye-catching photography, your studio should live and breathe light. Lighting is a factor that can make or break your photograph. A big window is essential. But the sun might not always be consistent. Shooting at night and in bad weather requires artificial lighting. 
LED lights:

LED lights provide a constant source of illumination for your indoor photography. You don't have to buy expensive lights; big LED lamps will be sufficient. You should have a minimum of three LEDs illuminating the subject from every direction.
Speedlights:

Flash is a powerful source than constant lighting. Speedlights are used to give an add-on flash to your photographs. 
Strobe Lights:

Mixing strobe lights can fill the shadows which are created by spotlights. Since they can be costly, there are many

factors to consider before buying a strobe light.
In addition to essential lighting and camera, your home studio won't be complete if you don't use other components. These include softboxes, umbrellas, tripod stands, a portable table, a backdrop stand, and a white or colored background sheet. Once bought, these will go a long way in your photography career. 
Seamless photography background
When you're photographing a product for advertising, it becomes essential to highlight its key aspect. You can be photographing articles like jewelry, handbags, footwear, clothes, etc. The aim is to put focus on the object as much as you can.
Fix your background with both duct tape and stand so that it stabilizes and there's no shadow. Next, put its bottom portion on your portable table. Keep the product on the table and adjust lighting with diffusers. This will give the object a seamless background. Not just white, this is equally effective with other color backgrounds as well.
For sure, your surroundings of the shooting area should be spotlessly clean. But your other walls don't have to stare blankly. Let your clients have a look at your best clicks. Showcase the best photographs and increase the brand value of your studio. Also, it will give you something to talk about regarding your talents. Your clients will come to know your photography style better.
To give a twist to your neutral color photography, try making DIY color filters. You'd only need colored translucent plastic sheets for it. You can also color a clear plastic with red and blue markers to have cheap red and blue filters. Hold the filters over your camera flash whenever you want to click using a filter.
Some other creative filter ideas include: 
Blowing bubbles in front of the camera.

Spray the lens with some water droplets.

Photograph your object through wool fibers or thin polythene sheets to create unique picture effects.
Aluminum sheets for excellent reflection
Aluminum sheets are such a cheap alternative to enhance the light falling on the object. Keep an aluminum foil handy in your in-home studio. It can be used in two ways– as a background or as a light reflector.
To make a light reflector with an aluminum sheet: 
Take a cardboard piece and some adhesive. 

Paste your aluminum sheet on the cardboard with its shiny side out. 

Use one of two reflectors as per your lighting choices. 

It will dramatically improve your photo outlook. When doing a headshot, it will give an excellent flicker to the eyes of the subject. 
Using it as a background is simpler. Just crush the aluminum sheet, and you have a fantastic reflecting backdrop for your photo shoot. Only make sure that the background is out of focus.
Your furniture and props should be creative and attractive. For instance, while doing baby photography, you require soft toys, baskets, warm fabric, etc. You don't have to buy anything extra. Just look around your home for fancy or aesthetic pieces. Keep a collection of them nearby.
For a decluttered look, you must keep your things organized. It becomes more critical in a small home setting since you'd require a lot of moving around. Store all your props in racks and boxes. For your electrical equipment, use a sloped project box. It will keep your electronics safe, all in one place.
This one is easy to get overlooked. But if you're a portrait photographer, do make sure to give proper changing space to your client. It doesn't have to be a separate room if you can't afford it. Cheaper things like folding screens or curtains with a little stool or chair will do perfectly fine.
Add a printing facility to your photoshoot studio. Even though you work digitally, printed photographs work as nice samples to hand to your clients. Research about some suitable printers which are perfect for photographers. These will make more impact than a digital photo.
Conclusion
Even the smallest of home spaces can be used as your photoshoot studio. As long as you have a great camera, adequate lighting, and good background, your pictures are sure to turn out impressive. With the above-given tips and tricks, a home studio would be the best decision you'll ever make.